It's been a year of excellent test cricket, take whatever you test series happened so far in 2021, India vs Australia Gabba test or the West Indies vs Bangladesh test series or South Africa vs Pakistan test series. The test format has still got it's fair amount of audience. It is so pleasing to see around 15k fans for the recently concluded India vs England match at Chepauk.
100% up to 4000 INR
Amount has to be wagered 12 times with an odds of 1.20
For the people who are looking for the online cricket betting tips, here we bring you an analysis on who will be the WTC finals against New Zealand and what are the chances that each of the 3 teams who are competing for that spot has as far as now before the 3rd test match between India vs England starts and the ICC WTC points table is also mentioned.
Also below we have the bet365 prediction and odds for the 3rd test cricket betting event and don't miss to check about the bet365 apk, which is one of the best among the cricket betting apps India has ever had.
Will India make it to WTC finals 2021/22?
India are the team that has more no.of chances as of now to be in the WTC finals against New Zealand at Lord's in June. India needs to win one and draw the other one of the next 2 matches against England. With a win in the 2nd test in Chennai, India are the most favorites.
Virat Kohli led Indian team is on a really dominant position to claim the current Test series against England as most of the playing XI are in their prime form and are building up on a great team work. It's good to see Indian lower order or say Tail enders are putting in effort in batting too. Special credit to Ravichandran Ashwin. Once again, India will qualify for the WTC Finals only if they win one of the next 2 matches and also if they make a draw in the other match.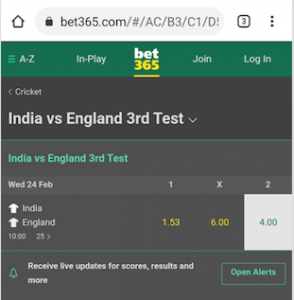 Current Scenarios: Before 3rd Test match between INDVSENG 24.02.2021
If India wins 2-1 or 3-1, then INDIA goes to the WTC finals
If England wins 3-1 only then they will go to the WTC finals
If India and England makes it a draw with either  2-2, 1-1 even after the next two matches, then Australia will comfortably go to the WTC finals.
Chances of big 3 to the WTC finals
Chances of India: India are the most likely favorites and even now to win the series 3-1 or at least 2-1 from start and go to the WTC finals, India is the only team with almost 90% chances as of now to go the WTC finals. With a win at Chennai they got their confidence back and almost the series. The only thing India needs to ensure is a win in next one of the 2 matches and a draw in the other would guarantee Team India a place in the WTC finals. India should win a match out of 2 and shouldn't lose any match is the key to go to WTC finals.
Chances of England: Even if England draws this upcoming 2 matches or even if they win 1 match out of 2, they won't be qualified for the WTC finals. They have to win 2 out of the next 2 matches to qualify for the WTC finals. The chances of which are not even like 10% with Team India getting back to winning momentum.
Chances of Australia: If any time is both unlucky and lucky, then it definitely got to be Australia. As if they had toured South Africa then the competition would be pretty high. Since the Cricket Australia has opted to not tour South Africa, NZ has qualified to be in the finals. If only IndvsEng test series results in a draw or if England wins 2-1 then only Australia qualifies for WTC finals.