India tour of England 2021
our main tip:
IND Win
INDvsENG 2nd Test betting tips 12.08.21
India vs England Test series 2021, is taking a lot of turns and twists. There was rain, there was a century from Joe Root and then KL Rahul came into form. There was also some brilliant bowling spell from Bumrah. The 2nd Test hopefully goes till the end, the 1st test was almost India's Sureshot win but it was unfortunate due to the rain. The 2nd test between India and England will be happening from August 12th – 16th 2021.
These free cricket betting tips are based on the dafa sports odds, the bookie provides one of the best odds for the upcoming 2nd test between India vs England on 12.08.2021. dafabet is one of the best cricket betting sites in India and Asia too. For the new customers they bookies a 160% bonus up to 16000 INR and for the android customers, they have a dafa sports app too.
INDvsENG 2nd test predictions
Virat Kohli is so determinant to win the England Test series. The team needs a win to come out of the WTC 2021 finals debacle against NZ. Especially Virat poor form continuing for 2 years he is averaging about 24 per Innings, with great players like Kohli they need just one Inning to start scoring runs. Rohit Sharma has been consistent with starts but not able to make a big impact, he has been one strong support in the previous WTC tournament.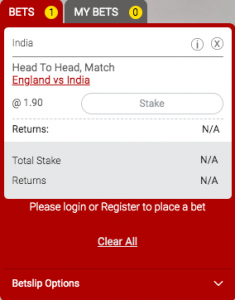 The major criticism with Rohit is that he is only strong in Sub-continent. Pujara and Rahane both have been out of form for 2 years and the team is not able to perform consistently or drag the lead when needed. We have some important info on the start date of the IPL 2021 below. The VIVO IPL 2021 remaining matches are going to start from September 19th 2021 – to October 14th 2021 at UAE. Chennai Super Kings is already going to UAE on 13th along with their Skipper, Thala MS Dhoni and some domestic players. Hopefully players like Suresh Raina, Ambati Rayudu etc will join the camp.
Don't miss to know how to do a dafabet apk download for android versions, check it in our online cricket betting apps in India page, to know the complete info on the dafabet download and installation process. Dafabet bonus offers a first-time deposit of up to 16000 INR which is the highest among all the welcome bonus offers from the cricket betting sites in India.
160% up to 16000 INR
Amount has to be wagered 15 times with an odds of 1.50
Coming to England, the lack of Ben Stokes and Jofra Archer is costing the team dearly. The top3 players are not in great form and have been out of form lately. The good thing is Joe Root has scored half of the team runs in 2021. Just before August 1st week of 2021, he had already scored 1000 runs in 2021.
Players like Jos Buttler, and Bairstow has been consistent and performing well for the team. The major impact is Anderson form for the England team, though the English pitches are pace friendly. We feel the team would really want to try out Jack Leach against this Indian team. But English team is not able to experiment with their bowling combination. Hope they risk something in the upcoming test a bit.
Our Word: IND wins 2nd Test
The confidence which the Indian team as a unit is showing needs to be appreciated. This is one of the best pace bowling units in a long time. With youngsters like Siraj spearing through the spells and giving a lot of boost for bowlers like Shami and Bumrah. Bumrah is back to form and how. He has been excellent in the first Innings since his first wicket.
Bumrah has been the backbone in India wins in the past couple of years. Now that he is in form, Team India will be looking to bring in R Ashwin. It is clearly evident how India missed the services of Ashwin in the 2nd Innings. Though India was in the front seat before the train mishap. Still, the team could have made more impact with Ashwin in the team.
Coming to batting, good to see openers being consistent and scoring runs. The major problem would be the middle order, Pujara, Kohli, and Rahane form is the concern. The top and lower order looking set for Team India. We feel bringing Vihari in place of Rahane, and Ashwin in place of Shardul might bring in improve the dominant Indian team on the English pitches. Surely, Shardul has impressed with his spell in both Innings.
But Ashwin can bring in some discomfort to players like Buttler, Root, and Bairstow. Though Shami had been expensive and not impactful in 1st test, with conditions favouring swing and pace. Shami is lethal than any other bowler in the world. On his day, Shami can just turn things just in one Spell. He is in his best of forms lately and even in the last WTC. Hopefully, he can bring in some class pretty soon.