our main tip:
IND Win
INDvsSL 3rd T20 betting tips, predicitons 29.07.21
The T20 Series is now square and the 3rd T20 will be the deciding one for the winner of the series. Team India looks out of control with almost 9 players are not available due to unforeseen conditions. There were 4 debutants in the last match, we might see a couple of new players in the upcoming one too. These free cricket betting tips are based on the ekbet odds. Info on the bookie and ekbet bonus code is mentioned below.
ekbet bonus code: EKBETA1B1P1
ekbet India offers the new customers a welcome bonus for their first-time deposit a 100% deposit offer. The new customers of the ekbet sports can claim a 100% bonus of up to 5000 INR, there is a special ekbet promo code exclusively for the cricket-betting-tips.com users. Check out below for more info on the ekbet online.
INDvsSL 3rd T20 betting odds
INDvsSL taking a lot of twists and turns, cricket fans are surely loving it. It's like future Team India is playing against Sri Lanka right now. Players Chetan Sakariya, Ruthuraj Gaikwad, etc are the future of Indian Cricket and their debuts were real anticipation for so many cricket lovers. coming to this 3rd T20, Team India will surely bounce back. Until 10 overs in Sri Lanka Innings, Team India were the favourites to win the match. Things changed rapidly after Navdeep Saini got injured as well. A debut can be expected in place of Navdeep Saini in the upcoming match.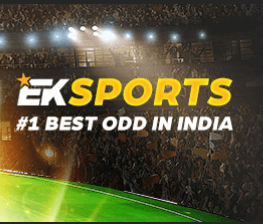 100% up to 5,000 INR
Amount has to be wagered 8 times
ekbet app is one of the most followed cricket betting apps in India. Check out info on the ekbet apk here, where we explain how to download, install, and also how to bet with the ekbet app in India. Through their betting app, users can do cash-out, bet-slip, live in-play, and gain lots of more promotional offers too.
Our Tip: Team India wins 2-1
Team India camp head coach Rahul Dravid and Captain Shikhar Dhawan will be worrying about the right combination to play against Sri Lanka in the 3rd T20. In the current situation, it's not about picking the XI, but the series is at stake right now. It will be a tough ask for Rahul Dravid to manage all these in just his 1st series as coach. One advantage with Rahul sir is that he knows most of these boys from their U19 days and the potential too since then. Shikhar Dhawan has been leading the team with very good momentum. If players like Hardik Pandya, Surya Kumar Yadav, Bhuvneswar Kumar, Prithvi Shaw were available then Team India would have already won the match.
Nevertheless, we pin high hopes on players like Varun Chakravarthy, Ruthuraj Gaikwad, and Chetan Sakariya. These 3 players have played exceptionally well in the IPL 2021, whenever they got a chance they proved. They are hunger to perform and it's the right time and a great opportunity whoever wins this match will be soon a contender into the Team India XI. We feel Ruthuraj Gaikwad might a strong impact and will be crucial for the win against Sri Lanka in the 3rd T20. We feel India will win this match and clinch the T20 series.