Dream 11 IPL 2020 - Match 32
our main tip:
MI Win
MIvsKKR Match 32 IPL betting odds 16.10.2020
Dafabet is one of the best asian bookmaker among the best cricket betting sites in India. Today, we come up with odds and also prediction for the upcoming match 32 of the Dream 11 IPL 2020. The bookie has one of the best cricket betting apps in India, as the apps are available both in ios and android version, for the ongoing IPL 2020 the users can bet and play through the dafabet app and experience the betting on hands. The match 32 of the Dream 11 IPL 2020 is one of the best match for the course of the week where there will be like 5 matches in 3 days, this is a great news for betting enthusiasts who are looking for the more and more betting events. Make use of the IPL betting time and earn with a responsible gambling in mind.
MIvsKKR IPL match tips 16.10.2020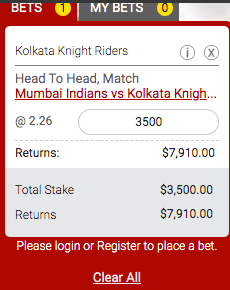 MIvsKKR and its in Abu Dhabi, this friday is going to be a run feast and a perfect start to the weekend like how the cricket fans, punters and betting sites would want it to be. dafabet odds are supporting the MI team, considering many tactics such as head to head stats, the team performance, the squad strength, versatility of the playing XI and most importantly champion players like Rohit Sharma, Eoin Morgan, Pollard, Dinesh Karthik etc. Check out our IPL tips page before you start betting with the dafabet sports.
Dafabet odds – Match 32 MIvsKKR
160% up to 16000 INR
Amount has to be wagered 15 times with an odds of 1.50
Head to Head Stats: MIvsKKR
Overall – 25
MI – 19
KKR – 6
Our Word: MI should get the win
MI looks good and has to win this one, they have a clear advantage in head to head stats too. MI team also looks more solid when compared to KKR. The Mumbai Indians Skipper Rohit Sharma would love to win couple of more games and settle their berth in playoffs. MI and DC are the only teams who are consistent in their approach till now in this Dream 11 IPL 2020. MI needs to sort out two things, one the death bowler and finisher. MI has the best opening and middle order till now in this IPL 13 but they are lacking the form of Finishers, most of the job of finishers is being done by middle order. If in playoffs there comes a situation if their Top and middle order fails then the onus will come on the Finishers and tail-enders to see through the hard times and take them to the semis. Hope MI solve this too.
Coming to KKR its a mystery team, even after 8 games KKR looks still unsettled with their squad. For this match, Dinesh Karthik steps down as a Captain and gave the opportunity to Eoin Morgan. Dinesh Karthik, Shortly DK, has been the man of the match recently and also made sure KKR entered 4th spot in points table has stepped down as Captain to concentrate more on his batting and gave up the duties for the World cup winning England Captain Eoin Morgan. Morgan main task would be to sort out the team's foreign players. Our expert advice would be to play Eoin Morgan, Tom Banton, Chris Green in place of Andre Russell and Lockie Ferguson in place of Pat Cummins. This could bring in a fresh wave of confidence in players. It's going to be a great weekend coming up with 5 matches in 3 days.